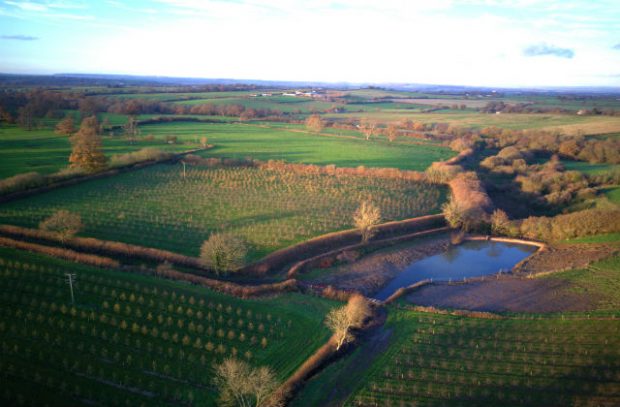 A ground-breaking partnership project involving Natural England has been awarded a prestigious environmental prize for its work to reduce long-term flood risk, in the aftermath of devastating flooding in Somerset during the 2013-14 winter floods.
The work of the 'Hills to Levels' project, led by the Farming and Wildlife Advisory Group South West, has been recognised with the 2018 River Prize. The project brings together a number of partners to take action to 'slow the flow' to reduce flood risk, reduce erosion, improve water quality, deliver wider environmental benefits and increase resilience on the floodplain.  Using natural flood management tools, the project has planted new woodland to help slow the flow of water across the landscape.  Creating 'leaky ponds' has added space to capture and hold extra water, before releasing it slowly into the land.
Roy Hayes, one of Natural England's Catchment Sensitive Farming Officers, who was seconded to the project, said:
It is great to get recognition for a project bringing together water quality and water quantity.  Using flow path maps and local knowledge from land owners and flood wardens has been crucial to achieving better water and soil management.
Hills to Levels has engaged more than 100 farms to take natural flood management action.
So far the Hills to Levels project has delivered:
453 schemes in total
25,000m3 storage in leaky ponds
232 woody structures
11ha of woodland planted
1656 m of hedges planted
5km of headwater streams restored
60 filter barriers
41 soil husbandry visits
The Catchment Sensitive Farming programme focuses on giving practical advice and guidance on soil and land management to improve water quality.
Bob Middleton, Catchment Sensitive Farming Programme Manager, said:
Since 2006 Catchment Sensitive Farming has made a significant step in improving our rivers through working with farmers and our partners.  This award recognises the significant work we've done, including more than 1,000 farm visits, with our partners in Somerset and the surrounding area.
Louise Webb, Senior Adviser, Natural England added:
It's been a privilege to work with this fantastic team of dedicated people, by sharing expertise and linking up national and local funding streams this collaboration has helped develop and implement Natural Flood Management across the catchment. I look forward to ongoing success and inspiration for the future.