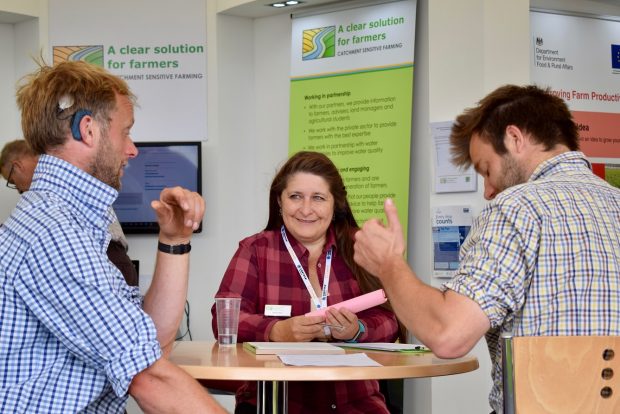 Here at the Catchment Sensitive Farming partnership we believe that everyone has a role to play in improving the quality of our air, especially farmers and land managers who can also help to boost biodiversity, protect wildlife and deliver local environmental benefits.
Since 2006 we have been working with farmers and land owners to improve water and soil quality and, with the launch of the Clean Air Strategy in January this year, have been working with the agricultural industry to improve air quality through reducing ammonia emissions from agriculture.
As part of our new air quality project, we have produced ten case studies that focus on reducing ammonia emissions from slurry storage and application, pig finishing units, livestock feed, urea fertiliser application and through the effective management of nutrient on the farm.
We know that 87% of the UK's ammonia emissions are from farming, primarily from livestock farms, manure handling and fertiliser application to arable land. that is why we are committed to advising farmers on how best to take action. Following the additional £3 million funding from the Defra to Catchment Sensitive Farming project across England, we now have a team of air quality and agricultural specialists working with farmers in high priority areas to reduce ammonia emissions on the farm, paying a particular interest to farms close to protected areas that are vulnerable to ammonia deposition.
Clean Air Day is a chance to find out more about air pollution, share information with friends and colleagues, and help make the air cleaner and healthier for everyone, and this Clean Air Day we want to commend the work of our Catchment Sensitive Farming officers who are working with farmers and land owners to provide essential advice and guidance to reduce air and water pollution.
Our Catchment Sensitive Farming officers are on the ground locally, building long-term relationships with farmers and the agricultural industry, visiting farms and agricultural events, and providing training and grant support across the country.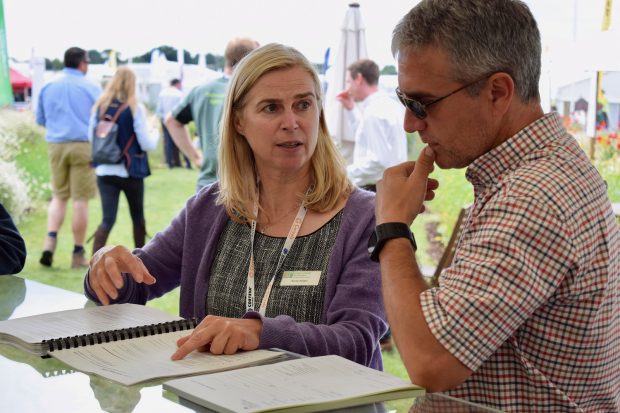 Our Officers support the Clean Air Strategy by helping farmers to invest in infrastructure and equipment to reduce emissions, advising on using low emissions techniques for spreading slurry and digestate, advising on covering slurry and digestate stores, and supporting measures to minimise pollution from fertiliser use.
Recently, Catchment Sensitive Farming Officer Andrew Russell, Catchment Sensitive Farming Air Quality project manager Paul Arnold, Defra's Deputy Director for Air Quality and Industrial Emissions and other air quality specialists, visited Kingston Hill dairy farm to discuss how measures from the Clean Air Strategy can be practically implemented on the farm.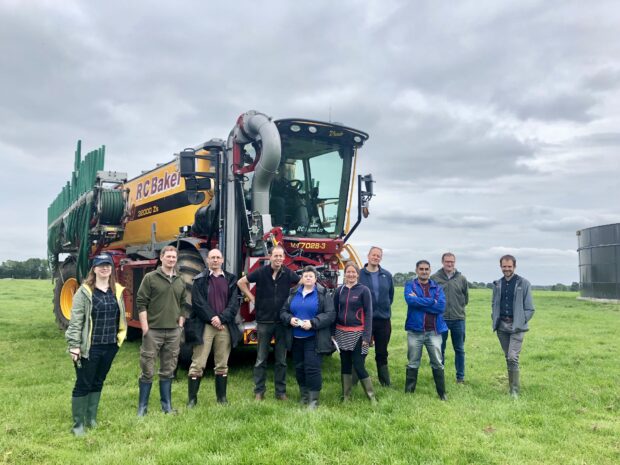 During the visit, the team got the chance to speak to farmer David Christensen and  also to his contractors who demonstrated their low emission spreading equipment. Our Catchment Sensitive Farming Officer, Andrew Russell has started to engage with David to provide training and advice on ammonia reduction measures.
A flexible approach to adopting the measures set out within the Clean Air Strategy was the main takeaway message of the day. The team discussed the need for flexibility to allow farmers to achieve the aims of the Strategy in a way that works for them.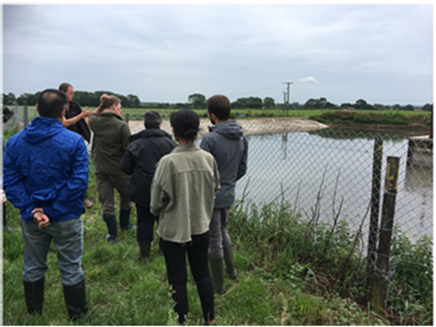 On the day it was discussed that Kingston Hill Farm's 'L' shaped slurry lagoon and its surroundings would make installing a floating cover extremely difficult. Alternative methods were discussed such as blowing chopped straw onto the lagoon to form a crust to reduce the amount of ammonia emissions in the air.
Reflecting on the visit, Paul Arnold says:
The Clean Air Strategy will introduce a number of measures that affect how farmers, particularly dairy farmers, operate and it's important that we look at how these can be introduced in a way that is both beneficial to air quality and realistic for farmers.
Reflecting on the visit, Andrew Russell says:
I was very pleased to offer Defra colleagues the opportunity to visit a modern productive dairy farm. Our host David Christensen was able to illustrate how challenging some of the Clean Air Strategy mitigations are to implement.

We need to offer a good programme of advice and practical measures to reduce ammonia emissions that offer flexibility, 'one size' does not fit all.
We want to help farmers and land owners to improve the environment and make sure that future agricultural schemes mean that farm business can work in harmony with the natural environment.
To find out more about why we care so much about low emission techniques for spreading slurry and digestate watch this Defra video here.
Follow Natural England on Twitter, and sign up for email alerts here.