Alice Lord, Natural England's Natural Capital and Ecosystem Approach Specialist tells us about an innovative project in North Devon which explored how we can protect and improve nature across the country.
The Government's 25 Year Environment Plan aims to improve the environment within a generation. This is a brilliant and ambitious aim, but if we are to meet it, one which requires a step-change in how we manage the environment.  Four pioneer projects Cumbria Catchment, Manchester Urban, North Devon & Suffolk Marine and the North Devon Landscape Pioneer were asked to find out how we could do this in practice.
The North Devon Landscape Pioneer led by Natural England, in a collaborative partnership with the North Devon UNSECO Biosphere, has trialled a variety of innovative techniques to understand how we can take account of what nature provides us with, and improve these benefits for both people and wildlife.
Our 'Natural capital', which includes our natural habitats, soils and wildlife, provides us with a huge range of benefits from clean air and water, food and timber to inspirational views, wildlife to watch and opportunities for exercise and relaxation. The pioneers explored if using this approach could help lead to better decision making for the environment.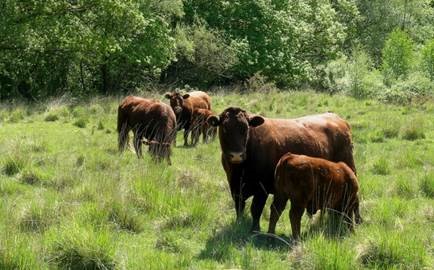 North Devon is home to many protected areas on land and sea which protect rare wildlife, significant geology and beautiful landscapes. At its core is the Braunton Burrows, the largest sand dune system in England, which is internationally important for wildlife. The Biosphere also contains a large proportion of the UK's Culm grassland, a habitat valued for its rare plants and animals.
The North Devon Landscape Pioneer identified priority issues in the North Devon Biosphere. As a result of the work undertaken by Natural England and its partners through this scheme, we have produced the North Devon Natural Capital Strategy which identifies the key actions needed that will restore nature for future generations.
The four areas the strategy considers in more detail are: improving water quality, increasing nature's ability to store and sequester carbon to help mitigate climate change, minimising flood risk and mitigating the impact of recreation and tourism on the coast.
The pioneer also created an innovative map of current environmental spending. This shows us that compared to other areas of public spending, we don't spend very much on the environment - it's only about 3% of public expenditure in North Devon, yet it provides us with so many benefits which are really important for people living in North Devon and further afield.
Our strategy contains a number of actions to improve the four priorities; these include increasing the amount of semi-natural habitats, for example increasing amounts of woodland, grassland, including the rare Culm grassland and coastal habitats. As well as managing rural land more sensitively, including reducing chemical inputs where possible, it involves creating more on-farm natural areas and good soil conservation techniques.
This picture shows a native cattle breed and an area of grassland with low inputs and low levels of grazing, this management helps this area store more carbon, improve water quality and can help wildlife. © Rob Wolton / NE
What now?
We're excited to share our report on the trial with everyone in autumn. You can read more about our natural capital strategy, the evidence and process we used to create and the investment opportunities for North Devon here.
Defra has also recently launched an ambitious new online resource to help ensure better environmental decision-making by valuing our natural capital. The resource pulls together, for the first time, a set of evidence and guidance about UK natural capital to help policy makers, businesses, landowners and public sector organisations make better planning decisions in order to protect and to boost our natural capital.