Hatfield Moors Fire
Paul Duncan, Area Manager, Natural England 
Updated 10 June 2020 
As you know we have been working with the South Yorkshire Fire & Rescue Service (SYFRS) to fight a major fire on Hatfield Moors, part of the Humberhead peatlands National Nature Reserve (NNR) since a wildfire was reported by a member of the public on Sunday 16 May.
I am pleased to report that there are currently no surface fires anywhere on site and the SYFRS have now formally handed back the site to Natural England.  Our staff will continue to be out patrolling the site to ensure that no further fire hot spots spring up and dampening down any hot spots if necessary. SYFRS will support us if needed.
Tackling the wildfire has been a real partnership effort and I have been hugely impressed by the leadership provided by SYFRS and Doncaster Council, but also the help and support provided by a wide range of organisations to help get this fire under control and extinguished. Last week, our Chair Tony Juniper visited the site to meet with Doncaster Council and South Yorkshire and Humberside Fire and Rescue to meet and thank those who have worked on the incident.
In terms of the next steps, we are working with SYFRS and Doncaster Council on a recovery plan, which will include drawing up a restoration plan for the site, but also communicating with local communities about the extent of the damage, what recovery entails and how we will go about restoration. We don't yet know the full impacts of the fire, but as our Chair Tony Juniper commented during his visit to the site last week, "nature is resilient and will bounce back".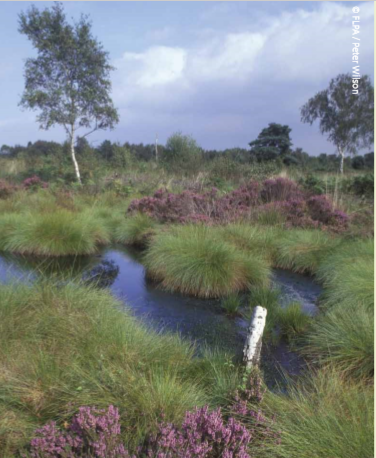 I would like to thank members of the public for avoiding the moors and ask that people continue to do this – even though the surface fires are out, it is still not safe for public access as there remain significant risks to public health and safety on site, including unsafe access tracks and unstable trees.
The cause of the blaze has not yet been determined, but I urge people to continue to respect the environment and follow the Countryside Code. Please do not light fires or barbecues in the countryside in order to help support our emergency services and protect the environment.
About the site:
Hatfield Moors is owned and managed by Natural England. It's one of two sites that make up the Humberhead Peatlands National Nature Reserve. The other site, Thorne Moor has not been affected. The location is usually a popular destination for hikers, dog walkers, runners or anyone wanting to relax in the beautiful, natural surroundings.
The site is a designated Special Protection Area and Special Area of Conservation. This means that it's the home to a number of protected, and in some cases threatened, birds and wildlife. On this site that includes Nightjars, adders and a number of important plants and invertebrates. The site is also the largest area of lowland peat bog in England and work has been underway to restore it since 2014. Peatlands are particularly important carbon stores and restoring their condition will contribute to reducing carbon emissions.