By Mel Hughes, Natural England's Sustainable Development Programme Director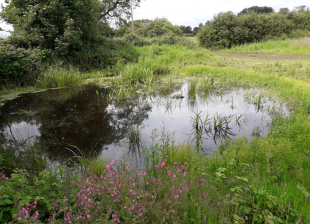 It's great news that the Government has tabled amendments to the Environment Bill to enable Species Conservation Strategies and Protected Site Strategies. We recognise that addressing impacts on our most precious habitats and species often requires broader scale activity than site-by-site measures can achieve, often at planning authority or catchment scale. While there are schemes in place, these are ad-hoc and not yet considered as a normal way of working. We want the new amendments to resolve this to create great opportunities to extend conservation measures, streamline regulation and contribute to local plans for Nature Recovery. We have good experience that this is achievable.
Great crested newt district level licensing is a scheme that has mapped newt populations, looked at proposed development impacts on their populations and determined the level of habitat compensation required by developer contribution. This has massively increased the provision of habitat for this species and early monitoring results show that this is having a positive effect already. At the same time it has sped up decision-making and reduced uncertainty for developers - a real win-win. The Bill amendments will allow strategic licensing to be extended to other species, where it will provide these benefits to both wildlife and development.
When it comes to protecting our best wildlife sites, the biggest threats are increasingly those that come from indirect, cumulative impacts, such as air or water pollution and bird disturbance. Protected Site Strategies will put in place big-picture solutions which deal with these threats at a scale which works. One example is our work in the Solent area, where we've got a great solution that developers can draw on; one where water quality is maintained or improved by targeting developer funding to secure low input management of large tracts of land. Another is the award winning South Humber Gateway Mitigation Strategy.
These schemes have in common that they target funding to where it will deliver greatest benefit to the natural environment. By embedding this early thinking into local plans, we can drive forward on local nature recovery and green infrastructure delivery.
There are many other great examples of where strategic solutions could be put in place. Rolling these out will depend on two key things – sufficient resources to develop the evidence base and conservation strategies themselves, and effective engagement with partners throughout.
The Bill amendments will help to create a great starting point for such partnerships. If we pull together to resolve the biggest development issues, and combine these strategies with local policies to implement biodiversity net gain, statutory agencies, Local Planning Authorities, NGOs and developers could all make a huge contribution to delivery of a green recovery. This is one more example of how we want to help stimulate broader and more ambitious partnerships for nature recovery.