Jen Almond, Natural England's District Level Licensing Programme Manager, on the new data that will benefit great crested newts and developers alike.
Natural England has now uploaded baseline survey data on great crested newts (GCN) to make it available to all. The project – taking three years to complete – is the largest ever survey of its type for great crested newts across England, and was funded by the Ministry for Housing, Communities and Local Government (MHCLG).
Why is the project important?
This England-wide survey data has enabled Natural England's district level licensing programme – without this data we couldn't have developed this significant new licensing option, an approach that better supports GCN populations, as well as reducing delays for developers.
We hope the data will bring other benefits: it is a fantastic resource coming out of the district level licensing programme, available to all. The data will mean that Local Environmental Record Centres and other groups such as the Wildlife Trusts can help better protect the species. Whilst only a sample of ponds were surveyed, the data will help inform conservation efforts. We hope making the data available will means that GCN habitats can be better managed as well as linked-up on a landscape scale, helping the species to thrive.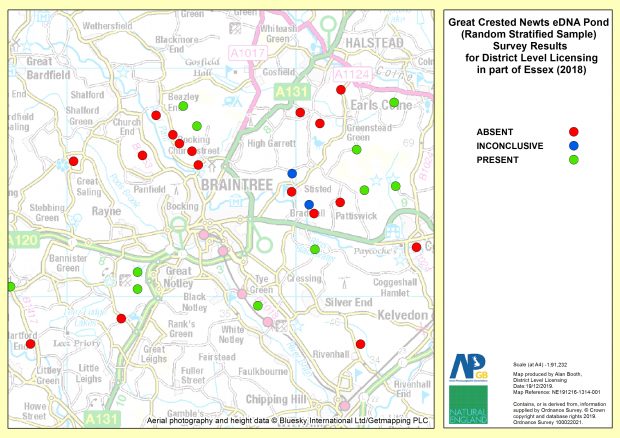 What did we do?
GCN are a visually striking but an elusive species, breeding in ponds and hibernating on land, typically in rough grassland, scrub and woodland. We worked with contractors, with permission from landowners, to survey more than 7,518 ponds using the relatively new environmental DNA (eDNA) sampling technique to establish the presence or absence of GCN.
The survey results are being used alongside mapped landscape features such as pond density to develop landscape scale licensing strategies for the species. We carefully ensured we surveyed a random stratified sample of ponds across a range of landscape and habitat types.
Central to the project are award-winning state-of-the-art species distribution models which predict suitable habitat for great crested newts. These spatial models incorporate all the pond survey data we collected plus existing records correlated with predictive geographic layers which are ecologically important for the species. The resulting model prediction maps of suitable habitat filter through to every part of the project. To find out more about the district level licensing approach read our blog post on protecting great crested newts.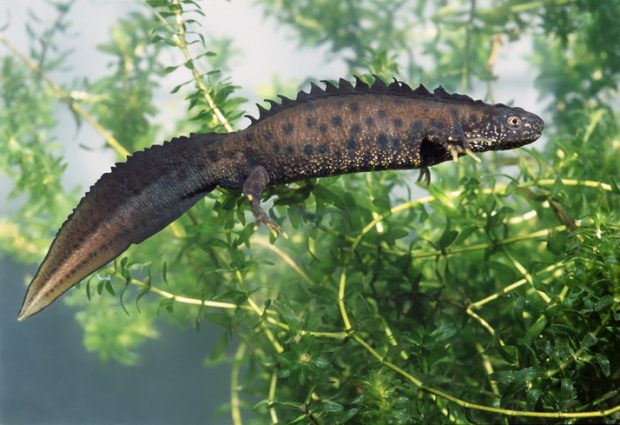 Why should we protect great crested newts?
GCN are a European protected species. The animals and their eggs, breeding sites and resting places are protected by law. They are widely distributed throughout lowland England. However, the species has suffered enormous declines, with approximately 50% of ponds in the UK lost in the 20th Century and 80% of current ponds in a poor state. A traditional or a district level licence is required from Natural England if you're planning an activity and can't avoid disturbing them or damaging their habitats (ponds and the land around ponds).
Who can use the data?
As the data is available under an Open Government Licence absolutely anyone can use it. It is already being put to good use – the data will form part of the evidence used to update the 'Favourable Conservation Status' statement for great crested newts. The Conservation Status is considered 'favourable' when the population and range of the species is healthy and will be maintained into the long term. Monitoring this helps environmental managers, policymakers and scientists effectively protect habitats and species such as great crested newts.
What is the Natural England Open Data Geoportal?
The Natural England Open Data Geoportal was launched 2017 and provides free and open access to geographic products for download in multiple formats (CSV, KML, Shapefile and ESRI File Geodatabase), web services (ESRI REST and GeoJSON APIs), web applications and story maps. All content is available under the Open Government Licence v3.0, except where otherwise stated.
A simple explanation of how to access the service can be viewed here.
If you have and ArcGIS Online organisational or public account you can access and use our data on the ArcGIS Online platform. Sign in at the top right of the Natural England Open Data Geoportal home page and try it out, or register for a Public account here.  A subset of our geospatial open data layers are also published on the ESRI Living Atlas of the World.
Updates to existing data and new content are released by the end of each month and you can view the latest releases on the Geoportal home page. We also tweet data and service updates, so please follow us to keep up with the latest news.
You can contact us at Data.Services@naturalengland.org.uk with any feedback.