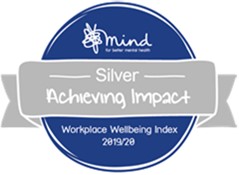 We're proud to announce that Natural England has been awarded a Silver Award in this year's Mind Workplace Wellbeing Index results.
There is rightly a huge focus at the moment on the wellbeing and mental health of workers, and a wider recognition that people have families and lives outside of work. With most of us working from home, the impact of coronavirus has highlighted how our personal lives affect our working lives, whether it's feelings of loneliness or the additional pressure of caring responsibilities, concerns for the future or just everyday life. The steps that our employers take to help safeguard our wellbeing can make a huge difference. As Natural England's Mental Health champion, I want to tell you about some of the work we've been doing within NE.
'Breaking the stigma' of talking about mental health has long been a theme of wellbeing work, and for those who feel able to open up and share their experiences, they need to know that they will be supported and listened to.  Three years ago, NE took part in the Mind Workplace Well Being Index to understand how we fared when compared to other organisations and to understand what more we could do to support the wellbeing of staff. We were pleased to receive a Bronze award and recognised that there was a lot more to do - the report we received gave us some invaluable pointers.
We sought volunteers from within NE to take up the challenge of responding to the report. I feel that it's really important to drive these changes from within the staff cohort and not top down. The development of our Well-Ment network is a key part of making changes, and this staff-led group now has over 200 members. We took part in the Mind Workplace Well Being Index again in 2019 and last week had confirmation that NE had achieved a Silver award.
Some of the things we put in place include:
a Well-Ment vision for the next three years, which feeds into the organisation's People Strategy;
having Well-Ment Leaders at each of our 25 office locations and representing homeworkers;
a Wellbeing toolkit sharing what's available for wellbeing at offices and for home workers;
created a Time to Talk video where ten of our leaders including CEO Marian Spain shared a personal story about their mental health; and
trained 75 people in Mental Health First Aid.
The recent results revealed that 82 per cent of NE staff feel Natural England encourages openness and discussion about their mental health, which in terms of 'breaking the stigma' we feel is a really significant result. 67 per cent of employees who've experienced poor mental health whilst working at Natural England have disclosed it, up by 33 per cent since the last survey - a positive result but with room for further improvement.
Our challenge is to tackle some systemic issues around resources and workloads and to continue to provide the support and environment where staff can openly share their feelings and be confident that they will be listened to and supported. With the Environment Agency and Defra also participating in the Index this year (awarded Gold and Silver respectively), we will continue to work closely with them to share experiences and collectively work towards better mental health and wellbeing for all staff.
The real improvements that have been made are due in no small part to a group of committed volunteers who give of their time, skills and experience to support others and shape the organisation. It will be Gold next time!