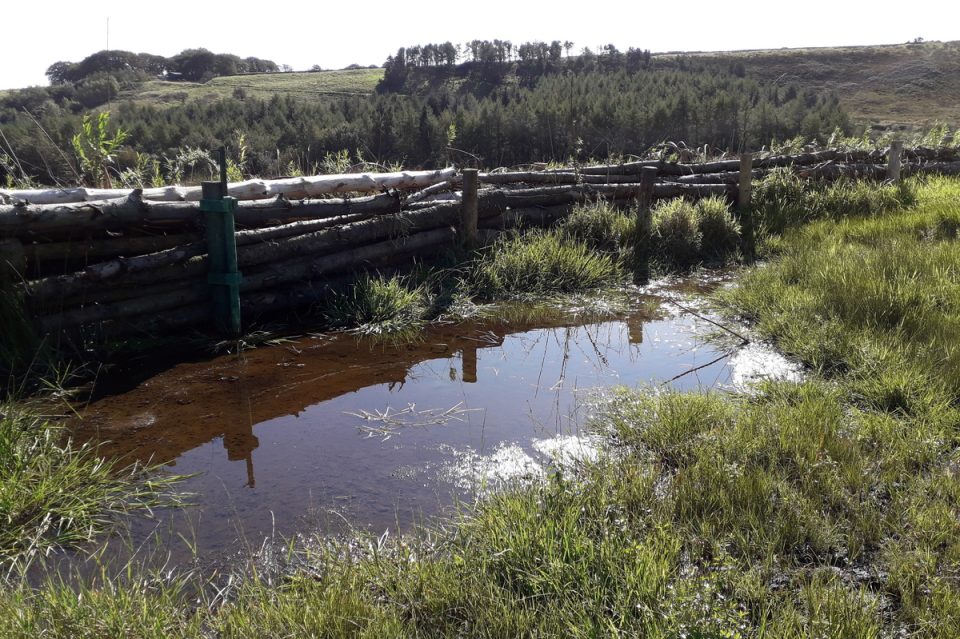 This week saw the launch of the government's new Flood and Coastal Resilience Innovation Programme, managed by the Environment Agency.  This will support 25 areas at risk of flooding to take innovative action on flooding and coastal change.
Lead Local Flood Authorities (LLFAs) can contact the Catchment Sensitive Farming partnership for support with applications where farmers and landowners might implement Nature-Based Solutions and Natural Flood Management.
David Burton, Catchment Sensitive Farming (CSF) partnership, shares more about our work with farmers, flooding, and the programme.
Back in November 2009 I went on an epic set of farm visits in Cumbria.
I was leading the Grazing Animals Project (GAP), an advice and knowledge exchange programme to support new grazing systems which help bring protected wildlife and landscape sites into good health.  Cumbria County Council were battling some of the worst floods in living memory and the GAP were in the eye of the storm.
Battling through the floods, our first stop of the day was at a sheep farm in Ullswater. A farmer told us how they moved from mostly sheep grazing on the fells, to cattle grazing on the lower slopes.  We heard the inspiring story of how the native woodland and scrub were beginning to re-clothe the Clough valleys.
That afternoon the rain eased for a bit and we met a farmer who had just done the impossible. He had been sweet-talking his fellow commoners with grazing rights on a Cumbrian Common to work together and reduce the numbers of sheep.
Despite the wind, he wanted to show us the result; a rejuvenated moor, rich in wildlife. Our host for the day, Mervin, was a legend among Farm Advisers. He had been the rock.  The trusted expert adviser who was there to explain the complex choices to be made and to act as a sounding board when a knotty programme appeared.  Farmers trusted Mervin and respected the expert advice and knowledge that our advice programme brought.
In the aftermath of the November storms, farm advice began to take a new and exciting turn. How could we use natural flood management and nature-based solutions in farm advice? Some of the Nature Based Solutions that have been developed include:
Woody debris dams put in the upper reaches of rivers to slow the flow of water during storms.
Upstream fields having small ponds created to catch the water where it falls and
Crops and rough grass grown, where once there were bare soils in arable fields, to take the water deep into the ground instead of letting it rage down the surface of hills.
To trust that these techniques work, a healthy dose of farm advice and trials were needed across the country – from Cumbria to Kent.  CSF, Natural England, together with partners including The Rivers Trusts and Wildlife Trusts, the National Farmers Union and Country and Business Landowners Association, looked at flooding from the farmers' point of view.
Five small pilot projects, have started to reveal how to make the most out of farm advice and local partnership working with farmers.  During downpours, local Flood Wardens with a bit of training can see how the water flows and work with farm advisers to ascertain where measures can usefully be taken. Where soil, pesticides and fertilisers are being washed away, high tech gadgets can be deployed to guide small on-farm capital works that help prevent floods too.
The Flood and Coastal Resilience Innovation Programme, with its 25 pilot projects over six years, will help create opportunities to ramp up the contributions farmers can make to flood and coastal resilience.  Whether it's converting land from crops to saltmarsh, or careful placement of a few branches in some ditches to slow the flow of water to a small rural road.  The key factor for success will be trusted farm advice.
The CSF partnership and Natural England are here to help LLFAs and their partners during Expressions of Interest and subsequent delivery of successful and not so successful bids.  Our expert advisers and specialists will look at the big picture - making sure the right measures happen in the right place to secure the maximum benefit.
Catchment Sensitive Farming is a successful partnership between Defra, the Environment Agency and Natural England.  It works together with farmers and key organisations in priority areas across England to improve the quality of our water and air and is expanding its' role into land management advice for flood resilience.
David Burton is the CSF partnership Senior Adviser for Business Development and lead contact for CSF contributions to the Flood and Coastal Resilience Innovation Programme.