Efforts to improve the state of the natural environment in England are poised to take significant steps forward, following the Prime Minister's announcement of a 10 point plan for a green industrial revolution, one that is geared to meeting the twin crises of climate change and Nature decline.
As we approach humanity's last chance to stem greenhouse gas emissions in time to avoid potentially catastrophic climatic shifts, to avert a global mass extinction of animals and plants and to ensure the whole of society benefits from a healthy environment, it is vital that individual countries step up with leadership.
I am delighted to see that leadership gathering momentum here in the UK, bolstering our Natural England vision for a future in which we secure Thriving Nature for People and Planet – a vision that is evidently shared by the Prime Minister. Big visions like this are vital, and so is delivery on the ground.
Earlier this month Natural England launched the delivery partnership that will establish a Nature Recovery Network (NRN) across countryside, towns and coast, linking up protected sites, creating large areas of new wildlife-rich habitat and restoring our treasured landscapes, making Nature accessible to everybody. It is the biggest nationwide conservation project in England's history, but it can only succeed if the political will is there - today's announcement shows that it increasingly it is.
The 10 point plan will help to give us the mechanisms and the boots on the ground needed to drive forward in pursuit of that Nature Recovery Network. The Green Recovery Challenge Fund has already helped a number of our key partners who are feeling the financial effects of coronavirus just at the time the country and we need them most. The advent of a second £40 million round of funding will bolster threatened jobs and create new ones, enabling organisations to play a full role in restoring Nature with us, as well as helping people with a wide range of experience and education build careers in conservation. Natural England is very much looking forward to working with our partners to bring forward the very best projects for funding. As the Prime Minister's announcement makes clear, there is much work to be done.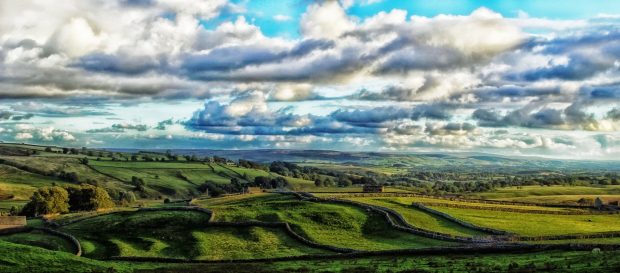 Natural England is of course also responsible for designation or extension of National Parks and Areas of Outstanding Natural Beauty, as we've seen with the Yorkshire Dales and Lake District National Parks and the Suffolk Coast and Heaths AONB. Restoring Nature in these places, and adding new National Parks and AONBs to those already designated, will take a great deal of effort and will be a very visible and inspiring demonstration of the country's renewed commitment to Nature.
But is this also the time to think about a new type of national park – closer to or even within our major cities perhaps, more focused on Nature and landscape restoration and mitigating climate change, more immediately accessible to everybody? We need all our protected landscapes to serve the needs of the country now, as much as the ones created in the 1950s helped rebuild the country after the Second World War. We are starting work to identify the areas that most benefit from and merit designation, as well as continuing our work to restore Nature and reach out to a new generation and a new diversity of visitors in the existing National Parks and AONBs.
The prospect of 10 Landscape Recovery projects is hugely exciting, and we very much look forward to starting work to make the very best of the efforts of land managers and farmers who, as we know from our work with them on the Countryside Stewardship Scheme, are already committed to making their farms wild and greener and joining together to make a difference at a landscape scale. These projects will use the new Environmental Land Management scheme to provide wilder habitat for a variety of important species. They will create carbon sinks and natural flood defences, for example by restoring our peatlands and planting trees, and will restore landscapes through more extensive grazing schemes by drawing on our relationships with land managers established through decades of work on earlier agri-environment schemes.
There are a number of examples of this type of partnership work already in place, including the Wild Ken Hill project in Norfolk. This estate spans woodlands, farmland, heathland and coastal marshes near the Wash. Through Countryside Stewardship a broad partnership is rewetting marshes, restoring biodiversity and allowing marginal farmland to return to scrub and woodland pasture, bringing benefits for Nature, climate and people.
Of course today's announcement is not all that we and Government have in mind for the recovery of the natural environment. New provisions, powers and targets coming with the Environment and Fisheries Bills and the Agriculture Act will also drive progress, placing much greater emphasis on producing food from land and sea in a sustainable way and firmly embedding restoring Nature for the public good. These vital pieces of legislation will encourage the recovery of Nature on precisely the vast scale needed to provide more, bigger, better and joined places for Nature, as envisaged by the Lawton Report a decade ago. And they will help to achieve the Prime Minister's recently-stated ambition to protect 30% of the UK's land for Nature by 2030.
Taken together, these approaches to restoring Nature will provide many of the building blocks needed for the Nature Recovery Network and, ultimately, the achievement of the 25 Year Environment Plan. They will bring multiple benefits for our country: sustain the flow of clean water; catch and store carbon from the atmosphere; reduce flood risk; help to support our long term food security and, by bringing thriving Nature within everyone's reach, help to tackle some major public health challenges, including in relation to mental health. Not only will all this improve the long-term health of our society, but also our economy, securing the green recovery that has during these past months been so widely spoken of, including by the Prime Minister himself.