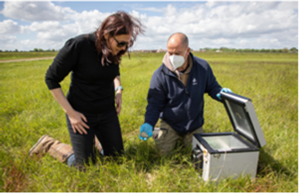 There has been widespread coverage in the Independent, BBC News Online, the Evening Standard and the Sunday Mirror of Natural England's project to move curlew eggs, a threatened bird species, from airfields in the East of England.
The curlew is Europe's largest wading bird which has suffered severe decline over the last 40 years. As a ground nesting species, curlews often gravitate towards airfields but this poses a danger to air safety and eggs laid here are destroyed under license.
This project follows an egg collection pilot last year and sees Natural England staff and partners rescue eggs from airfields before incubating, rearing and releasing them in habitats where they can thrive. Once hatched and ready, these birds will be tagged and released across the UK. Up until the beginning of May 2022, 26 of 79 birds from the pilot had been spotted.
A key aim of this project is to pioneer curlew recovery across the UK and assess the role of nature recovery networks in driving population growth for threatened species.
Graham Irving, Wildlife Management Lead Adviser at Natural England, said:
At Natural England we want to see nature thriving everywhere. The decline of the curlew is one of England's most pressing conservation challenges and we're proud to be leading this innovative project, which we hope will make a significant difference to the fortunes of this iconic bird in the east of England.
Chrissie Kelley, Head of Species Management at Pensthorpe Conservation Trust, said:
Working together is vital to help reverse the decline of the curlew. Pensthorpe Conservation Trust are thrilled to play a significant part in aiding the recovery of such an important species, by rearing and releasing chicks saved from the airfields.  This, along with changes to the management of their habitat, we and the partners of this project hope to safeguard the future of the curlew.
 Air Commodore Sam Sansome, Inspector of Safety RAF, said:
The RAF is so proud to be supporting this fantastic project again this year. It really is an amazing thing being done by the team and it is brilliant that all the organisations involved have pulled together, again, to ensure the future of this iconic bird.