Since the launch of our District Level Licensing scheme for great crested newts in Kent (February) and Cheshire (March) earlier this year, we've recently reached two more milestones for the project. Earlier this month we welcomed our very first customer to formally enter the District Level Licensing scheme in Kent, Barratt Homes. In celebration of this progress, Tony Juniper, Chair of Natural England, visited the Chilmington Green development and also viewed two of the 68 ponds created and restored through District Level Licensing, hearing first-hand from Barratt Homes representatives and from a range of partners involved of their early experience of the scheme.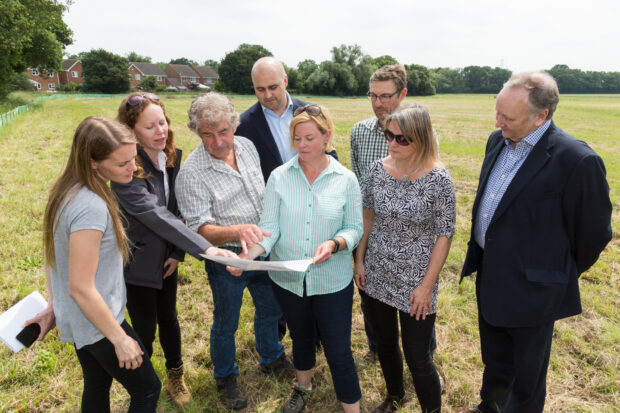 Speaking about the visit, Tony Juniper, Chair of Natural England said:
I'm delighted to see District Level Licensing happening on the ground, at a landscape scale. This exemplifies how we want to work in the future.

Here in Kent we are working with businesses such as Barratt Homes to use licensing in a positive way that helps the environment. It's great to see them responding so quickly and enthusiastically to our innovative new scheme.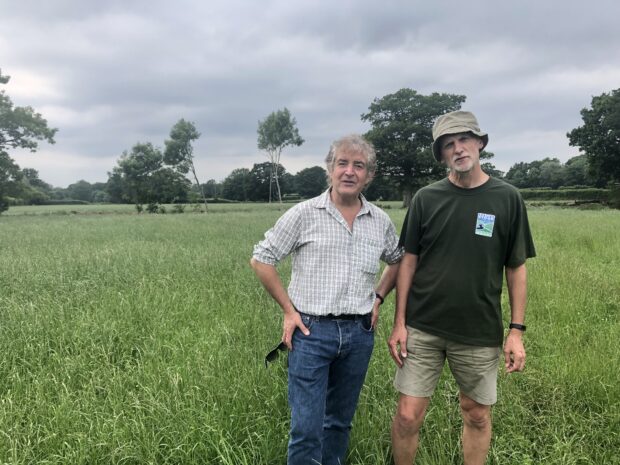 To date, we've had lots of enquiries about joining the live schemes in Kent and Cheshire. Of these, seven developers have so far collectively committed to invest over £250k for the impacts of their development on great crested newts and large, multi-phase developments are considering an additional £1-2m investment.
85% of developer monies in Kent and Cheshire goes directly to creating or restoring, maintaining and monitoring habitat for great crested newts. This is the heart of the approach, shifting investment from reactive, site-based mitigation to strategic, landscape-scale habitat provision. Ponds are created or restored in our Strategic Opportunity Areas, modelled and mapped by our modelling and data scientists to be the best places for newts to thrive, and will be maintained and monitored for 25 years via this upfront investment by developers.
District Level Licensing is now available across 23 Local Planning Authorities (LPAs) including Woking, seven LPAs in the South Midlands (led by Nature Space Partnership), and of course across 15 LPAs in Kent and Cheshire. Over the next 12 months we are looking to launch District Level Licensing in more areas across England. With increasing interest in the approach, there is a need to set the standard for District Level Licensing.
A Framework for District Level Licensing of Development Affecting Great Crested Newts

This leads us to our second significant milestone – the development of our Framework for District Level Licensing of Development Affecting Great Crested Newts. The Framework document sets the standards for District Level Licensing, recognising that whilst scheme designs can vary, comparable outcomes for great crested newts can be achieved. We want this document to offer a structure for future District Level Licensing applications from different bodies interested in the approach, and as one of my team members put it: "distils years of thinking into one place, the value and quality of which should not be downplayed."
We want to make sure that the conservation sector better understands the progress we have made with the District Level Licensing approach. Our document will both level the playing field, and set the bar high for scheme designers such as LPAs, groups of LPAs, or other public bodies, and commercial bodies or non-governmental organisations, who are interested in the opportunities that participating in District Level Licensing presents.
We didn't work on this alone. In February this year, we brought together leading figures in great crested newt conservation from across academic, private, local government, and non-governmental organisation sectors to form a new Great Crested Newt Licensing Expert Panel, to provide authoritative, expert opinion on our approach to great crested newt conservation and regulation, and thereby contribute to the delivery of the Government's 25 Year Environment Plan and Natural England's Conservation Strategy 'Conservation 21'. Our Expert Panel has been helping us to shape and grow support for our an ambitious programme of great crested newt licensing reform over the coming years, and secure better conservation outcomes for the species, alongside improved outcomes for developers, householders, ecologists and other stakeholders.
The Framework document represents the first major piece of work that the Panel have been consulted on. Beyond the Panel, a small number of other partners including the Wildlife Trusts, Nature Space Partnership and Essex County Council all provided feedback on draft versions Their collective comments and advice has been invaluable.
About our Great Crested Newt Licensing Expert Panel
The Great Crested Newt Licensing Expert Panel was convened to provide overarching support and challenge to continuously improve and implement our new great crested newt licensing policies, as well as helping to inform, develop, refine and review our monitoring and evaluation strategies for these to ensure they bring about better conservation outcomes for great crested newts compared with traditional licensing regimes. We are really pleased to have successfully convened such an exceptional group pf people to provide a sounding board for District Level Licensing as we adaptively manage the scheme and monitor the outcomes.
Through the Framework, we can now be sure that our scheme will be implemented by different bodies consistently. Now District Level Licensing has an established methodology and a range of delivery models, there is no reason why we cannot make District Level Licensing available right across the country.
Over the next 12 to 18 months, I hope District Level Licensing will become available across more than 100 LPAs. With the right support from conservation bodies and the private sector, we have the opportunity now to streamline regulation, provide upfront, secure habitat for great crested newts and bring about better outcomes for the species.
The Framework document is now available on Natural England's Evidence Portal.
More guidance on District Level Licensing
Follow Natural England on Twitter, and sign up for email alerts here.