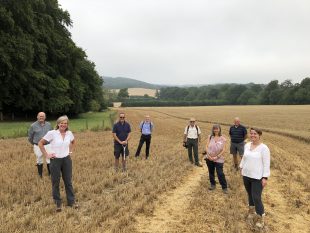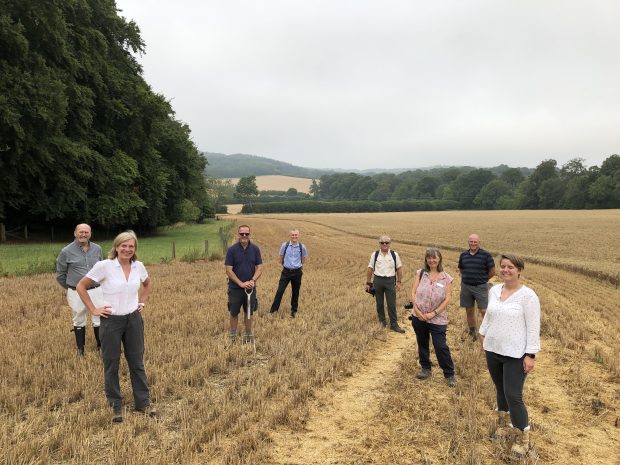 On Friday last week Government announced five pilots to test Local Nature Recovery Strategies (LNRS) as a new, ground breaking mechanism to plan for Nature recovery at a local level.
The five pilots led by local authorities in Buckinghamshire, Cornwall, Cumbria, Greater Manchester and Northumberland are being supported by Natural England. These innovative pioneers are mapping their most valuable sites and habitats for wildlife alongside their priorities for linking up and restoring Nature. The results will inform the planned roll out of LNRS across all areas in England, once the Environment Bill receives royal assent.
The announcement is a significant milestone towards the Government's ambition and our mission to help create a national Nature Recovery Network (NRN). LNRS will identify, map and prioritise local actions to create bigger, better and more connected natural places that benefit people, wildlife and the economy.
Why a national Nature Recovery Network?
For seven decades Nature conservation in England has been founded in large part upon the identification and protection of key areas of habitat deemed our most important for Nature conservation. At the core of this effort has been the notification of Sites of Special Scientific Interest, covering more than a million hectares or over eight per cent of England. Many are further protected as National Nature Reserves, or through additional legal safeguards operated under European Union Directives.
The application of controls to protect this network of key areas has undoubtedly been vital in safeguarding many of our best wildlife and geological areas. But ultimately, as repeated surveys have revealed, including the State of Nature, this is not enough to see Nature thrive and to meet the needs of society. We now need to act at scale to address the crises facing biodiversity, climate and health.
The realisation that we need to go beyond protection and into the active restoration of natural areas is reflected in the Government's 25 Year Environment Plan. This aims to leave Nature in better shape for future generations. How to do that is a very big question, but fortunately we have answers, including in the findings of Sir John Lawton's seminal Making Space for Nature report. His vision lies at the heart of Government's ambition for a new national Nature Recovery Network (NRN), an ambition that Natural England shares – to create more, bigger, better and connected areas of wildlife-rich habitat benefiting Nature and people.
What will local delivery of the NRN look like?
There are an increasing number of practical examples of how the NRN can be advanced through projects that not only aid wildlife recovery but increase carbon capture, reduce flood risk, improve water quality, boost tourism, and benefit public health and wellbeing. These projects are expected to feed into their Local Nature Recovery Strategies in due course.
Purbeck Heaths "super" National Nature Reserve in Dorset was declared in March 2020. This remarkable initiative saw Natural England, RSPB, Wildlife Trusts, National Trust, Amphibian and Reptile Conservation, the Forestry Commission and private landowners, cooperate to bring together three smaller and previously isolated National Nature Reserves into one coherent area. At over 34 square kilometres, equivalent in size to Blackpool town, this area of mixed heath, wetlands, grassland and woods is an inspiring breakthrough for conservation.  It will also support the health and wellbeing of over 2.5 million people who visit Purbeck each year.
There are many other initiatives underway across the country. At the Avalon Marshes in Somerset, Natural England, the Environment Agency, RSPB, Hawk and Owl Trust and Wildlife Trusts are working together to return former peat workings and drained grasslands into extensive wildlife-rich habitats that reduce the increased flood risk arising from climate change. An outstanding mix of birds now thrive there, including breeding great white egrets. In the Peak District, Moors for the Future is restoring large areas of degraded blanket bog, improving water quality, reducing the risk of wildfire, preventing carbon losses from the peat, and supporting an array of wildlife such as the mountain hare, curlew and golden plover.
We are also working with private landowners in pursuit of ambitious new conservation ambitions, such as at Knepp in Sussex, where the rewilding of a former arable and dairy farm is leading to remarkable outcomes, seen in the recovery and return of many declining wildlife species, such as Nightingale and Purple Emperor butterflies.
Natural England's role
In pursuit of our mission of thriving Nature for people and planet, Natural England are using the full range of our powers and duties and our special role as the Government's official conservation advisor.
Spatial planning and advice - helping to pilot the Local Nature Recovery Strategies that will underpin, spatially plan and map local delivery of the NRN. This includes sharing and developing tools and guidance that aid delivery, including the robust science, evidence and advice that will support effective targeting of investment in Nature's recovery.
Working with Government to integrate the wide-ranging set of tools and targets that will help achieve the NRN. SSSIs will be central to the plan, but so too will be the developing Environmental Land Management Scheme (ELMS), the new net gain provisions contained in the Environment Bill, integrating the Government's targets for woodland creation, peatland restoration and the legally binding target of achieving net zero greenhouse gas emissions by 2050.
Establishing partnerships - No one entity or organisation alone can achieve what is needed, so finding common cause among landowners, conservation groups, local communities, private sector companies, other official agencies and Government departments is vital. This is not always straightforward, but the potential is huge. This includes National Parks and Areas of Outstanding Natural Beauty, as identified by the Glover Landscapes Review. Also farmers, who manage 70 per cent of England, to ensure Nature's recovery nurtures a vibrant and sustainable farming sector. We will also work with businesses outside farming, including water, housing and infrastructure companies.
Building England's new Nature Recovery Network is not going to be simple, but it is central to our future and the future of our planet. We look forward to working with our partners to create bigger, better and more connected natural places that will support Britain's green recovery.